Plano is a city in the U.S. state of Texas, about 20 miles (32.2 km) north of downtown Dallas.  It is a part of the Dallas–Fort Worth metroplex. Plano lies mostly in Collin County, but a small part is in Denton County.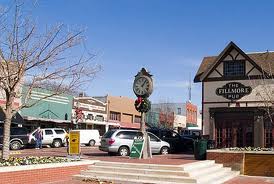 The Plano Independent School District serves most of the city. Student enrollment has increased dramatically over the past few decades. Plano has a unique high school system, in which grades 9-10 attend a high school and grades 11-12 attend a senior high. There are three senior high schools (grades 11–12) in PISD; Plano East, Plano, and Plano West. In Newsweek's 2012 list of best national high schools, Plano West was ranked as 22nd (#1 in Texas), Plano Senior as 108th, and Plano East as 243rd. Small portions of Plano are served by the Lewisville Independent School District, Frisco Independent School District, and Allen Independent School District (Commercial Only for Allen ISD).
Plano schools graduate more of their students than comparable districts. In 2010, 93% of Plano Independent Student District students graduated from high school, 18 percentage points higher than Dallas ISD's rate. In 2012, Plano Independent School District announced that 128 seniors were selected as National Merit Semifinalists.
Plano has given $1.2 billion in property tax revenue to other school districts through the Texas "Robin Hood" law, which requires school districts that are designated as affluent to give a percentage of their property tax revenue to other districts outside of the county. In 2008, PISD gave $86 million. Controversy erupted when the salaries of teachers in less affluent districts—such as Garland ISD—exceeded the salaries of teachers in districts that had to pay into "Robin Hood".
In the 2013–14 school year, Plano ISD has opened two 4-year high school Academies, one focusing on STEAM (STEM education plus Media Arts) called Plano ISD Academy High School, and the other on health science. Additionally, the district has modified its existing International Baccalaureate program to allow freshman and sophomores in the program to be housed at Plano East Senior High School.
In addition to Catholic primary and middle schools, the Roman Catholic Diocese of Dallas operates John Paul II High School in Plano. Non-Catholic private schools in Plano include Great Lakes Academy, Spring Creek Academy, Yorktown Education, and Prestonwood Christian Academy. In addition, the Collin County campus of Coram Deo Academy is in the One Church (previously Four Corners Church) facility in Plano.
Contact Jill Lucas at Lucas Luxury Leasing for information on homes for lease in Plano, Texas